Hello!
My name is Satu Rämö. Author of nordic blue crime book series called HILDUR. I was born in Finland in 1980 and moved to Iceland twenty years ago as an economics exchange student. Instead of macroeconomics I ended up studying Icelandic culture, literature and mythology before forging a successful career as a writer, digital creator and a mentor. I have published numerous bestselling, prizewinning non-fiction titles in my native Finland, ranging from travel guides to Iceland, to inspirational memoirs and an Icelandic knitting book.
HILDUR is my fiction debut and I'm planning two further standalones featuring Hildur Rúnarsdóttir. RÓSA & BJÖRK will be published in spring 2023, followed by JAKOB, in winter 2023. I live with my family in the small town of Ísafjörður in northwest Iceland.
The publishing rights to HILDUR-trilogy have already been sold to several territories including Germany, The Netherlands, Denmark, Sweden, Norway, Estonia and Latvia.
Take Two Studios will shoot the HILDUR series in Iceland with an Icelandic-Geerman co-production.
Here you can find my contact information. I would love to hear from you!
"It's not every day in the literary agent's work that you sell translation rights to a book before its domestic publication; nor is it every day that you find yourself fielding multiple, passionate bids from production companies. Hildur has been a force of nature from the start – both with Finnish readers as well as foreign publishers, and I can't wait to follow the development of this exciting project."
"With this deal with IPR.VC our start-up production company has the opportunity to develop international and ambitious projects both actively and independently. Hildur's story also offers a great opportunity for genuine Finnish-Icelandic cooperation, which will undoubtedly increase the project's international potential."
"'Not only is Rämö a stylish, absorbing storyteller, but she also succeeds in offering up something novel and even touching to the rather tired serial killer genre. The bar for debut crime novelists has been set high in recent years, but Satu Rämö surpasses it effortlessly and lifts the bar even higher."
A cold case crime and dark secrets of a close-knit community intertwine in this bracing crime novel with a twist.
Everyone does their best to survive amidst the freezing fjords of remote Iceland. Hildur Rúnarsdóttir is no different as she takes to surfing in the icy waters of the Atlantic to try and forget her traumatic childhood and the burden of the cases occupying her mind as head of the missing children's unit of the Ísafjörður police.
When Jakob Johanson, a Finnish police trainee with a knitting hobby arrives in Iceland to work alongside Hildur and try to escape his own, complicated life back at home, soon he, too, realises that the picturesque fjords also harbour their dark sides in the marginalized, exploitative, and power-hungry who dwell in their midst. Hildur and Jakob find themselves investigating a strange tangle of crimes as the fog obscuring secrets that have been in the dark for decades gradually begins to lift. Revenge may be sweet in theory, but will it solve anything in the end?
Hildur Rúnarsdóttir, a police detective who surfs the icy waters of Iceland, barrels into the genre like a tsunami. This book must be read in one sitting.
In addition to the fine and moody description of the milieu, the plotting of the novel is cleverly woven, and the characters in their everyday life are believable. Rämö plans to continue Hildur's story, and if she does it as well as in this, her debut novel, she may become a significant new name in Nordic crime fiction. Or at the very least, a domestic one.
Not only is Rämö a stylish, absorbing storyteller, but she also succeeds in offering up something novel and even touching to the rather tired serial killer genre. The bar for debut crime novelists has been set high in recent years, but Satu Rämö surpasses it effortlessly and lifts the bar even higher. Such well-executed, mature and uniquely their own crime debuts are a joy to read. […] The ending of Hildur sets the scene for the next installment, and just as well as we need more of this treat.
Here's the best crime debut of the summer: it pulls you along like a train, is interesting, and has the right balance of personal relationships. It's fresh and new, and also relatable. This is a genre that thrives on cliches, and these are needed, but in good measure – not too many – and this [book] strikes the right balance. The text is snappy, smart and tells just the right amount. I love it! Chapeau, Satu Rämö.
Rämö constructions interesting characters for her main characters. When I read the description of the book, I admit I was skeptical, as it is so common to insert gendered characters of traumatized and complex police officers into crime novels. Hildur is gnawed at by the memory of her lost little siblings in childhood, and Jakob battles with his Norwegian ex-wife over visitation rights to his son. As the book progresses, the individuals are fleshed out, the personalities become stronger, as do the friendships of the co-workers. Gendered roles are also reversed, as Hildur is an engrossed surfer and Jakob produces Icelandic sweaters with the power of knitting. Healthy!
The motive behind the pattern of murders in Hildur is ultimately, satisfyingly Icelandic and the plotting cunning. Combine this with an incomparably interesting milieu and pleasant and interesting protagonists and one will patiently wait for the next installment.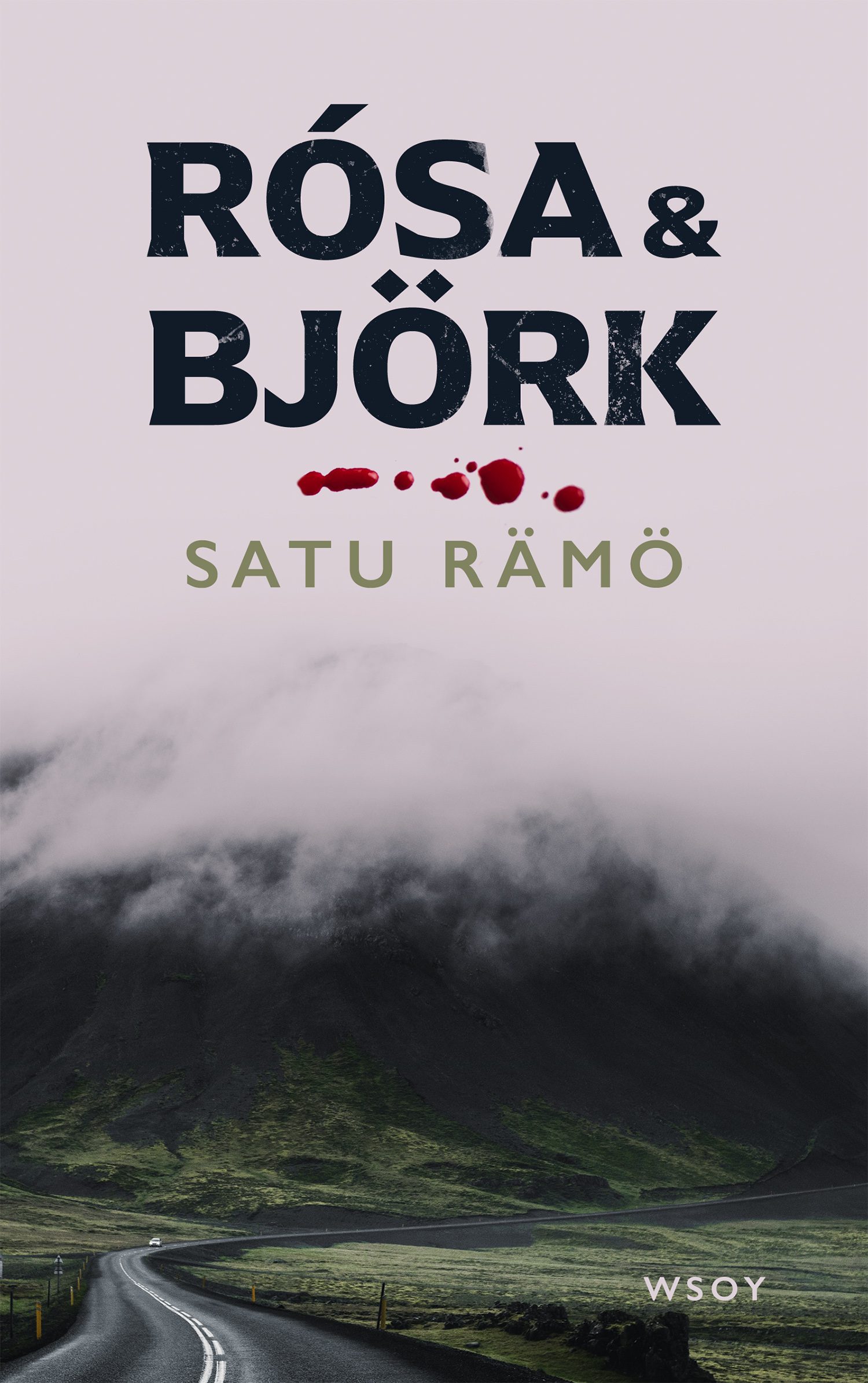 Evil is often found close to home, but the closeness of people remains the best asset we have.
An unusual murder occurs in the remote fjords of Iceland. An influential local politician is found shot on the ski slopes. During the investigation into the murder, Detective Hildur Rúnarsdóttir and her Finnish partner Jakob Johanson, are faced with a difficult question. Is it wise to uncover every secret?
The traumas of Hildur's childhood return as the mystery of the long-lost sisters, Rósa and Björk, begins to unfold. Jakob tries to keep a cool head in the middle of a difficult custody dispute with his ex-wife.
RÓSA & BJÖRK is the second book in the Hildur trilogy and will be followed by a third installment in winter 2023.
Sigga & Satu's Icelandic Sweaters
13 fresh and authentic Icelandic sweater designs and various colourways 
A passion-project collaboration between renowned Icelandic knitwear designer Sigríður Sif 'Sigga' Gylfadóttir and Iceland-based Finnish writer, Satu Rämö with this collection of Icelandic sweater designs for sizes S–XXL  honouring traditional Icelandic yarns with a twinkle in the eye.
Complementing the uncomplicated pattern instructions Satu's engaging texts cover topics such as the history of Iceland's 'national dress', the day-to-day lives of sheep farmers.
Also included is a pattern for the 'Hildur' sweater, as featured in Satu's titular bestselling crime novel.
A vibrant and convivial knitting guide for the Nordic knitwear fan!